To achieve immediate results from focussed Sales and Marketing campaigns, hands-on experience is absolutely vital. Our people have to hit the ground running, particularly when our Clients are paying by the hour and expect results.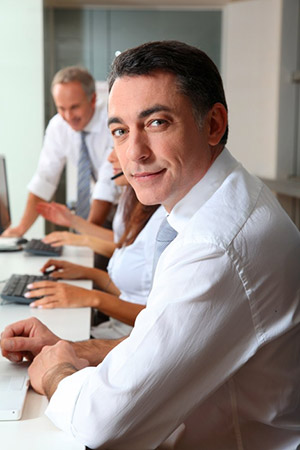 Vision (SME) deploy experienced and professionally trained sales/marketing people with a graduate engineering backgrounds such as Jaime Lumsden. We have more than 200 associates who work in diverse sectors and have between them, accumulated many years of expertise.
By way of an example, Jaime's sales expertise ranges from covering three streets in Edinburgh, where he was a top sales person within the 250 strong British Olivetti UK sales team, to having a world-wide responsibility. He is a hands-on salesman and has also led large distribution channels, both internationally and domestically.
His largest personal sale was a multimillion pound technology transfer deal into a factory in China, but he also enjoys working in business to consumer direct selling.
Some of Jaime's sales portfolios include:
Accounting machines
Test instrumentation
Industrial controls
Janitorial products and services
Fire-fighter apparel/PPE
Metrology machines
ISO 14001 environmental services
Lightning protection systems
Optical rotating components Computer component boards.
He has sold at many levels to consumers, shop floor and facility managers, national purchasing organisations and directly to PLC main boards. He is comfortable selling products, services or concepts to individuals or business-to-business.
Jaime's CV demonstrates success as a young graduate engineering salesman through to senior business development appointments.
Jaime has been registered and quality assured with the West Midlands and Eastern Region embrokerage platforms and gained 5 star accreditation with East Midlands, directly as a result of references from satisfied clients. He has successfully completed some 35 grant funded projects and 5 Business Transformation projects.
His sales and marketing expertise may be used in developing Business Growth strategies for SME technical niche manufacturing businesses.